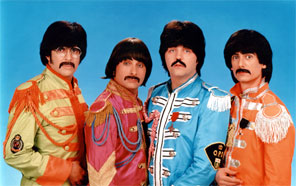 YESTERDAY
A Tribute To The Beatles
Yesterday has been performing and touring throughout the world sounding and looking like the Beatles. Thrilling their audiences wearing authentic suits like the ones on the Ed Sullivan Show, Yesterdat will take you on a mystery tour from 1964-1966 with their mop-top hair, Beatle Boots, exciting powerful vocals and witty stage mannerisms!

Then, in their second set, Yesterday comes out bringing back the psychedelic era of peace and love of 1967! Wearing colorful satin Sgt. Pepper suits and mustaches, with screaming fans singing along, Yesterday will take you to 1970, the final days of Beatlemania.

Don Bellezzo: rhythm guitar and lead vocals. Originally from Los Angeles, Don has performed extensively throughout the world and is founder of Yesterday. Don's excellent vocals, perfect mannerisms and stunning visual appearances will bring back memories of that unique mop top lad. Once you hear "Revolution" and "Twist and Shout", you can't "Help" but "Imagine" you have relived the real legend on stage.

Davey Justice: bass guitar and lead vocals. Originally from Chicago, Davey has amazed fans all over the world including Liverpool, England. With astounding vocals easily heard in "Can't Buy Me Love" and "Sgt. Pepper's Lonely Hearts Club Band", combined with irresistible charm and amazing visual appearance, this popular cast member has what it takes to keep the most loved Beatle in the hearts of fans everywhere.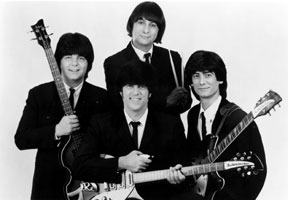 Monte Mann: lead guitar and vocals. Originally from Houston, Monte's excellent musical ability shows his great talent in portraying the mystical Beatle amazingly. This vibrant lad has the right spiritual ingredients to compliment this Fab Four.

Dick Cunico: drums and vocals. Originally from Colorado Springs, Dick has been starring in numerous musical reviews over his extensive career. Offstage, he is the member who composes and arranges the symphony orchestrations and on stage, portrays the fun filled light hearted Beatle with amazing style.