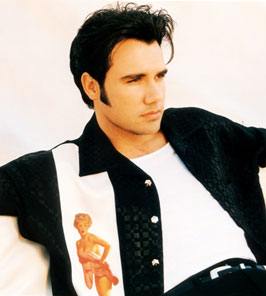 Eric Heatherly
Swimming In Champagne
The late night denizens of Nashville's Lower Broadway honky-tonk district already know these songs by heart. When Eric Heatherly blasts into "She's So Hot," "Swimming in Champagne" or "I just Break 'Em" they sing along with every word. It's quite a scene – Vanderbilt college co-eds jitterbugging with hardcore winos, alternative rockers dancing on the bar alongside hookers, music-biz millionaires bopping with working-class hillbillies. They are united by the extraordinary power of Eric Heatherly's music.

The young man with the sideburns, hepcat clothes, two-tone shoes and Bahama-green Stratocaster has already inspired a fanatical following in Tennessee. In testament to his expertise on the guitar, he scored endorsements with Fender and Takamine before he had a record deal. Now, with the release of the debut Swimming In Champagne CD, the rest of the world is about to start singing along with Music City's after-midnight barroom crawlers.

Whether it's the roadhouse stomp of "Wrong Five O'clock," the charming swagger of "Someone Else's Cadillac," the lyrical insight of "Freedom Chain" or the irresistible thump of Eric's reworking of the classic "Flowers on the Wall," this is music that grabs you by your shirt collar and doesn't let go. This isn't some cookie-cutter Nashville cowboy. This is a true musical personality – a lead guitarist, a writer with an individual outlook, a
son - of - the - South singer and a kick-butt showman.

"With me, what you see is what you get," says Eric Heatherly. "When we went in to record this album, we turned on the tape and just let it roll. 'Someone Else's Cadillac' is the first 'take.' It just felt too good to mess with it. The way you hear it is the way it was cut. That's all my guitar. This record is too good to mess with it. The way you hear it is the way it was cut. That's all my guitar. This record is about spontaneity. I just want it to ump out of the speakers … maybe blow some speakers, too."

His edge-of-the-seat enthusiasm is easy to understand. Eric has had this record boiling inside him for more than a decade, even longer, if you count his formative years.

The 29 year old Chattanooga native can hardly remember a time when he wasn't a musician. His parents, truck driver Earl and postal worker Nola, are both big country music fans. Their home was full of records and Eric was raised on weekly trips to see country stars perform in concert, everyone from Ernest Tubb to The Oak Ridge boys.

"The first thing I remember musically is that my dad had this two-tone, red and white '55 Chevy, and he'd take me out in the garage and turn on the power. We'd sit there on the seat together and he'd pop in a hank Williams tape and sing along with it at the top of his lungs. I was maybe 4 years old. He was a star in my ears."

A year later his dad brought home a guitar he'd rescued from the garbage dump and taught Eric his first three chords and his first song, Johnny Cash's "Folsom Prison Blues." The boy devoured the sounds of Conway Twitty, Creedence Clearwater Revival, Ry Orbison, and the Ventures, practicing so diligently that he wrote his first song at age 8 and was ready to make his stage debut by age 13. that performance, a talent-show rendition of john Anderson's "Swingin'," didn't go over particularly well with his break-dancing school classmates, but Eric Heatherly knew what he wanted to do for the rest of his life.