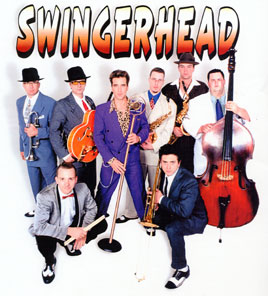 Swingerhead
Swingerhead's exceptionally talented musicians perform over 300 shows a year from music/art festivals, symphony orchestra collaborations, college clinics, corporate galas, specialized theme parties, casinos, fine supper clubs and swankiest of the trendy nightclubs all across the country. Some exciting venues include The Hawaiian Islands on the American Hawaii Cruise Line, The Greatest Bar on Earth at Windows on the World (New York City), The Derby, The Lava Lounge Viper Room (Los Angeles, CA), Ceasar's Palace, Golden Nugget and Hard Rock Hotel and Casino (Las Vegas, NV) Liquid (Chicago), Swing 1000 (Charlotte, NC), Bash on Ash (Tempe, AZ), Peter Scott's Supper Club, Walt Disney World and Universal Studios venues (Orlando, FL). Music festivals include Summerfest (3 years in a row) (Milwaukee, WI), Sunfest (W Palm Bch, FL), Lynx Jazz Fest, (Orlando, FL), Winter Parks Arts Fest (Orlando, FL) and the La Quinta Arts Festival (Palm Springs, CA). These Swingerheads even engaged in a capacity-crowd concert with The Orlando Philharmonic Orchestra this past Spring which is considered one of the events of the year.
Accolades range from The Orlando Music Award trophies for "Best CD of the Year" in '98 as well "Best Lounge, Swing and Rockabilly Band" in '98 and '99... to numerous magazine cover stories and features around the country. The highly successful, though short lived Orlando nightclub "Rat Pack's on the Avenue" was even designed and built around this band. The Swingerhead musicians hail from all over the United States.
Swingerhead now holds an extended engagement contract with the legendary 'entertainer's entertainer', Merv Griffin, every Saturday night at The Coconut Club at Merv Griffin's Beverly Hilton in Beverly Hills, California. Michael and the band have performed several events with Mr. Griffin at his properties in the US and we are proud to consider him an 'honorary Swingerhead'.
So, we have two band units - one in Florida and one in California both boasting top musicians to form band configurations from smoky combos... 8-, 10-, 18-, 20-, 30- and yes, even 70+-piece orchestras!
Swingerhead's CD "She Could Be A Spy" is a partial collection of original tunes written by Mr. Swingerhead. This disc is in circulation around the world on radio, in the clubs and homes, Swingerhead's original music has received outstanding reviews even in Rolling Stone magazine. Some song selections appear on 7 national compilation CDs.
And you better watch out for "A Swingerhead Christmas" as it was one of the most popular CDs in Central Florida last year and they expect to have a fun season with it this year with another full blown promotional tour.
There are many more interesting and kooky facets to Michael Andrew and these Swingerheads. They're dedicated to keeping swing music and the great tunes from yesteryear alive and sharing it with people of all ages.