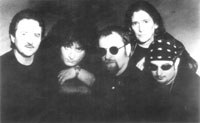 Blue Oyster Cult
Biography
For nearly three decades, Blue Oyster Cult has been thrilling fans of intelligent hard rock worldwide with powerful albums loaded with classic songs. Indeed, the Long Island, NY based band is revered within the hard rock and heavy metal scene for its pioneering work. That tradition continues with the June 5, 2001, release of Curse of the Hidden Mirror on CMC International Records, a division of the Sanctuary Records Group.

Blue Oyster Cult occupies a unique place in rock history because it's one of very few hard rock/heavy metal bands to earn both genuine mainstream critical acclaim as well as commercial success. The band is often cited as a major influence by other acts such as Metallica, and BOC was listed in VH1's countdown of the greatest hard rock bands of all time.

Upon the release of BOC's self-titled debut album in 1972, the band was praised for its catchy-yet-heavy music and lyrics that could be provocative, terrifying, funny or ambiguous, often all in the same song. BOC's canon includes three stone-cold classic songs that will waft through the cosmos long after the sun has burned out; The truly haunting "(Don't Fear) The Reaper" from 1976's Agents of Fortune, the pummeling "Godzilla" from 1977's Spectres and the hypnotically melodic "Burnin' for You" from 181's Fire of Unknown Origin. Other notable BOC songs include "Cities on Flame with Rock and Roll." "Then Came the Last Days of May," "I Love The Night," "In Thee," "Veteran of the Psychic Wars," "Dominance and Submission," "Astronomy," "Black Blade" and "Shooting Shark."

Curse of the Hidden Mirror "reflect" the intense creative vision of BOC's original core trio of vocalist/lead guitarist Donald "Buck Dharma" Roeser, vocalist/rhythm guitarist Eric Bloom and keyboardist/guitarist Allen Lanier and the longtime rhythm section of bass guitarist Danny Miranda and drummer Bobby Rondinelli (ex-Rainbow, ex-Black Sabbath). This album is the follow-up to 1998's CMC International release Heaven Forbid, which was BOC's first new studio album in 10 years.

The 11 tracks on Curse of the Hidden Mirror include "I just Like to Be Bad," the single "Pocket," "Eye of the Hurricane," "One Step Ahead of the Devil," "Good to Feel Hungry," "Here Comes That Feeling," "Dance on Stilts," "Stone of Love," "The Old Gods Return," "Out of the Darkness" and "Showtime."

The creation of this new album – songwriting to recording – was a fascinating process. Dharma and Bloom collaborated more on much of the songwriting than they had done in years, and Curse of the Hidden mirror is the first album BOC has recorded 100 percent digitally.

From the potent songwriting to the technical challenges of recording digitally, Curse of the Hidden Mirror marks an important phase of BOC's career, and that's really saying something for a band that's sold more than 15 million records.

"The majority of material was written in early 2000, but a few came from music we'd written years ago that we just couldn't come up with a good arrangement for. They seemed right for now. I wrote 'Showtime' back in 1979, and Buck's 'Stone of Love' originated back in 1983 around the time of The Revolution by Night, "Bloom explains. "Danny and Bobby were really important in bringing these songs to life. Bobby was instrumental in all the song arrangements too."

"We did a tine of rehearsals for this album. We actually rehearsed for two months straight. Some of the new songs were written in rehearsal. Buck and I would arrive a little early and start working on songs. We'd go back and forth saying, 'What about this?' We wrote 'The Old Gods Return' like that, for example. We hadn't written together like that in a long time. Our songwriting started evolving." Bloom says.

"Eric and I are collaborating a lot more on songs, and a lot more fruitfully than we have. That's a change," Dharma says.

Dharma and Bloom have certainly written some spectacular lyrics over the years, but they are not averse to embracing contributions outside the band. As with Heavens Forbid, some songs on Curse of the Hidden Mirror feature lyrics written by Sci-Fi writer John Shirley (who wrote the screenplay for "The Crow"). (In the past, punk rocker Patti Smith and science fiction novelist Michael Moorcock have written lyrics for BOC.)

Curse of the Hidden Mirror is very cohesive, very much a tight "band" sound. That's exactly the goal BOC wanted to achieve.

"This is the cohesive band we've had since the early days, Danny and Bobby are fully integrated members, and we sound very much like a band," says Dharma.

"As the songwriting started evolving, we started realizing what we had on our hands was a real 'classic rock'-sounding record." Says Bloom.

"We realized we're a 'classic rock' band. That's what we are, that's what we do best, that's what we know. One Curse of the Hidden Mirror, we consciously wanted to make a 'classic rock' record. We went for a distinctive band sound, like when you hear a song by somebody like Led Zeppelin of The Who you know immediately who it is because of the musical identity they've created," says Dharma.

The band members are proud of BOC's classic sound, and pleased the band is creating vibrant work for disenfranchised music lovers who don't like the homogenized prefabricated pop or sound-alike, formulaic rap-metal, which monopolizes the radio airwaves and best-seller charts.