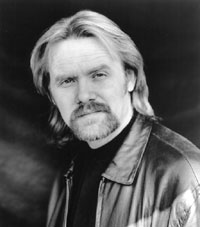 Lee Roy Parnell
Tell the Truth
This is the most honest record I've ever made," Lee Roy Parnell says about his seventh album, aptly titles Tell the Truth. "I didn't intend for this record to be symbolic in any way, but the truth is, it is very symbolic. These songs are all stories about my life." Parnell's made a name for himself with soulful hits like "Love without mercy," "Heart's Desire," "Holdin' My Own," and "When A Won\man Loves a Man." In an industry filed with contradiction, the fifth-generation Texan remains one of the rare artists who have managed to walk the line between critical acclaim and commercial success. Fans and critics alike have revered Parnell's melodic yet fiery slide-guitar, unique styling and heartfelt lyrics for more than a decade.
Yet, Tell the Truth – the first studio album in four years from the Grammy-nominated artist-proves that Parnell is still evolving as an artist, and has yet to reach his zenith. "I think it's easier to move forward when you have the kike of creative freedom I had to make this record," Parnell w\says candidly. "It's all about freedom. That's the only way one can grow as an artist. It's important to move yourself to the next level creatively and not just settle for what may have worked in the past. I'm doing what I've always done, except for the fact that Vanguard encouraged me to really spread my wings and do what was in my heart."
"Musically, it's so much closer to where I started," Parnell admits. "In many ways I've gone back to my roots." And those roots run deep as any west Texas oil well. Parnell's mother, Anna Belle, attended Texas Tech as a voice major. His father, Roy, ran off with a medicine show at the age of 12 to do black face comedy. During that time, Roy Parnell met legendary swing master Bob Wills. They became lifelong friends. "On my early years, I was introduced to music through the Wills family," Parnell recalls. "I tagged along to many dances with my dad and Bob. The first time I sang publicly was on the radio live with Bob Wills and the Texas Playboys. I was only six. From then on, I never wanted to do anything else."
In his later teens, Parnell was a member of Kinky Friedman's Texas Jewboys and soon became a dedicated student of a number of musical styles. Western Swing was his birthright, but he immersed himself in the history of other styles, more notable Delta blues and Texas blues. Upon his move to Austin in 1974, Parnell spent time honing his vocal, instrumental and compositional styles while playing with Texas legends Joe Ely, Delbert McClinton and Stevie Ray Vaughn.
"I was reminded of those Austin days when we played Billy Bob's in Fort Worth recently," Parnell says. "I walked out on stage and saw this sea of cowboys and hippies alike. I remember reading an article about Willie Nelson moving back to Austin in the early 70's. He played n Armadillo World Headquarters. The club was full of the country fans he'd built up over the years, but there were also hippies hanging out this joint. It was the beginning of that whole cosmic cowboy era in Austin. The musical line in the sand was blurred. Cowboys and hippies were all turning on to Willie Nelson. "At Billy Bob's we started the show off with a couple of familiar tunes," Parnell continues. "Then we went right into 'Crossing Over' from the new record. We got a standing ovation from the entire crowd on a song they never heard before. I looked out into the audience and once again, it was cowboys and hippies on their feet getting into the music. Every time we played a song from Tell the Truth, that crowd was on their feet."
Parnell co-wrote nine of the ten tracks on Tell the Truth with some off his dearest friends and colleagues. He also branched out with a couple of new co-writers. The result is a resplendent mix of blues, roadhouse rock, country-soul and gospel performed in Parnell's familiar and unpretentious style. "Breaking Down Slow," "South by Southwest," "Brand New Feeling," and "Guardian Angel" were written with Parnell's longtime co-writers and pals Gary Nicholson and Dan Penn. "Dan Penn's Do Right Man album was a gentle nudge to my heart," Parnell says. "It was a reminder to me about where I come from and what I love to do. I was very inspired by Dan when I was learning to write and sing. SO I was thrilled that Dan ended up jumping in with me and Gary on those four songs."
Jack Pearson, also a longtime friend and band mate of Parnell's, was on hand for this project. "Jack and I played together when I was 18 and he was 17. After Jack joined the Allman Brothers Band, I began to sit in with them as often as I could. It was like a dream come true being on that stage playing with the band that we both loved and learned so much from. We set aside some time to write and 'Take What it Takes' came very quickly. Jack takes the closing solo and also played organ on that track.
"I Declare" was written with Parnell's label mate Mark Selby and Grammy Winner Tia Sillers. ": The lyrics of 'I Declare' are very metaphorical." Parnell says. "One of the verses goes: 'It used to drag me down/That 'ol ball and chain/People thought I's crazy/For standing in the rain/But I did just what I did/To rust them shackles off of me." The song talks about being set free of the chains that bind you. Even though you've got the scars to prove you've changed, you have the power to get back to where you're suppose to be. That truth. That honesty. It's a running theme throughout this record." Georgia native Tony Arata has been one of Lee Roy's close friends and co-writers since their pairing on Lee Roy's Number One single "Holdin' My Own." His contribution to the album helped yield the title track, "Tell the Truth" and also the horn driven opening track "Right Where It Hurts."
The only tune on Tell the Truth Parnell did not have a hand in writing is the Gretchen Peters composition "Love's Been Rough on Me." "I absolutely love that song," Parnell says. "I heard Etta James' recording of it first. Sometimes your hear a song and say 'God, I wish I'd written that.' That's how I felt when I heard this song. Melodically it's what I call an R&B beat ballad. I love the chord changes, and the lyrics, and the feel of the song. Our version is different from Etta's. We cut it our way with a National steel guitar in the forefront. It's very organic, but I like Etta's cut, too.
Parnell says he returned to his origins in many ways on Tell the Truth. "It's almost ridiculous how many parallels there are between this record and stuff that I did years ago." Parnell laughs. "When I was 18 years old, my travels lead me to the Deep South where so much of the music I loved had been born. I went to Muscle Shoals searching for a sound I had in my heart and experienced my first professional recording session. 26 years later I'm back in Muscle Shoals recording with Johnny Sandlin, who produced the Allman Brothers and countless other acts from the Deep South that I just love," Parnell says. "With Johnny and my old band, recording this album was effortless. We were just like glue the way we pulled together again."
For Tell the Truth, Parnell returned to the '56 Gibson that he's had since he was 15 years old. "In every kind of way it was back to my roots with that old Les Paul. Sonically that changes things. Of course, it still sounds like me playing, but I've never had the opportunity to play solos on record that were a steady stream of consciousness. It's a different mindset, but it works for me." Tell the Truth also features guest appearances by Keb' Mo', Bonnie Bramlett, Delbert McClinton and The Mississippi Mass Choir. It's produced by Parnell and John Kunz. "Tell the Truth is a leap of faith," Parnell says. "Frankly, I had no preconceived notions about this record. Musically, it turned out differently than I thought it would. I just got out of the way and let the music come through me instead of trying to command it. It's sort of a Zen kind of thinking – to not think at all. Just let the music emerge and take it from there."