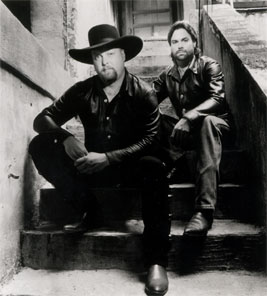 For Immediate Release

1 August 2000

Montgomery Gentry Cross The Horizon With Two Nominations
AMA Best New Country Act, ACM Top New Duo or Group Score Horizon, Duo Nods Nashville: Having made a year out of winning awards and sweeping polls, Kentucky's renegade Montgomery Gentry picked up two Country Music Association Award nominations for Duo of the Year and the Horizon Award for demonstrating greatest career growth over the past 12 months. This marks the second straight CMA Duo of the Year nomination for the American Music Awards' > Best New Country Act, the Academy of Country Music's Best New Duo or Group and the Radio & Records' Readers' Poll 1999 Duo of the Year -- an award that upset Brooks & Dunn's eight year domination of the category.

"Damn," said a sleepy Eddie Montgomery, who was asleep on the bus when reached with the news. "This means so much to us 'cause there were plenty of times Troy and I thought about giving it all up, back in Lexington. And, it also means we're gonna have one helluva party tonight!!!"
"Having watched the CMA shows growing up, it's a little hard to believe you're part of them on this level," added Troy Gentry. "I still remember seeing Randy Travis winning for 'Forever and Ever Amen' -- and that's when I knew I wanted to do this. Being there, as much as getting up when they call your name, makes you feel like you're part of the whole country music family -- and that's all I ever wanted from that night all those years ago."
For Montgomery Gentry -- whose Columbia debut Tattoos & Scars was certified gold for sales of over a half million units -- this year has seen a lot of dreams come true. They joined Waylon Jennings for a live recording at the historic Ryman Auditorium, made their Grand Ole Opry debut and played the Ernest Tubb Record Shoppe's famed "Midnight Jamboree" radio show with Loretta Lynn. They also created a Future Farmers of America scholarship, watched "Hillbilly Shoes" go Top 10 and "Lonely & Gone" find the Top 5, "Daddy Won't Sell The Farm" become their third straight #1 video at CMT, had a letter published in The New York Times -- and were the first country act to perform on "The Queen Latifah Show," plus sing on "The Late, Late Show with Craig Kilbourn" and get tattoed on CNN.
People said of the pair, "A first rate country duo with the rough-and-tumble energy of Brooks & Dunn and sweet two-part harmony that often recalls the Everly Brothers," while Entertainment Weekly raved about their "testosterone-laden hooky, hardcore fare spiced with heavy Southern rock" and USA Today proclaimed they "come across like a backwoods Gregg Allman or Marshall Tucker Band, all sinewy guitars and blues harmonies."
Look for the boys to hit Sturgis, SD's world famous Bike Week August 7 through 9.
########