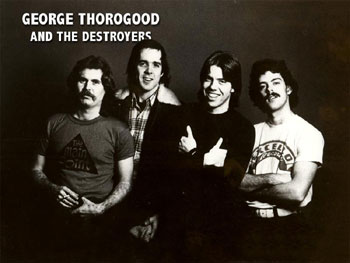 George Thorogood & The Destroyers
"Ride 'Til I Die"
BIOGRAPHY
Imagine never having heard a single song by George Thorogood & The Destroyers. As improbable as that may be, the band suggests you impose that mindset as you sit down to listen to their eleventh studio album, "Ride 'Til I Die", on Eagle Records. From the day they began playing their rough and tumble blues based rock back in Wilmington, Delaware, Thorogood and his cohorts have made a point to keep it basic, keep it simple, and above all, keep it fun. Twenty five years later, with the release of "Ride 'Til I Die", they're justifiably proud of having done just that, though this time around they've added some new wrinkles that even die hard fans will find both surprising and intriguing. The title underscores George's philosophy about performing the music that has become his life's work, but by no means does he consider it to be anything but a work in progress. "I'm having a better time now than ever before", laughs Thorogood. "I may be 50, but I'm still kickin' it and don't even want to think about stopping."

After all these years, George's exuberance for the music is, if anything, more pronounced than it was in the beginning. With Grammy winning producer Jim Gaines at the helm, "Ride 'Til I Die" is quite simply the Destroyers' best effort to date. Says Gaines, "George brought an incredible amount of energy to the project. His stamina and work ethic give this record a unique edginess and difference from anything he and the band have done." If Thorogood's signature guitar licks and trademark vocals seem more infused with passion than ever before, so too do the contributions of stalwart rhythm section drummer Jeff Simon and bassist Bill Blough. Sax demon, Hank Carter blows like a hurricane, but the performance of recently added guitarist Jim Suhler adds a crucial dynamic that makes the record bristle with an intensity that reflects why he has become a permanent and valuable addition to the Destroyers.

George has devoted his career to paying respect to the pioneers of the music that have so inspired him, and "Ride 'Til I Die" continues that tradition. The title track, in fact, evokes two immensely significant contributors to the Destroyers—John Hammond and John Lee Hooker. Written by Hooker, "Ride Till I Die" became a staple of Hammond's live set for years and was one of the songs that inspired Thorogood to take the plunge and become a full time musician. One night in the spring of 2002, George fired up his take of the song during a sound check at the legendary venue Billy Bob's in Ft. Worth, TX. The band was working on a few songs for the album and luckily, the tape was running when George cut loose with "Ride". When producer Gaines discovered the track, he urged the band to include it on the record. It has quickly grown into a sure-to-be Destroyer anthem.

As styles and musical tastes have come and gone over the years, George Thorogood & The Destroyers represent the dependability associated with staples of American culture like baseball, Coca Cola and cheeseburgers. They're more interested in the ongoing musical journey they embarked upon in 1973 than any particular destination they might arrive at while pursuing it. That's why the songs on "Ride 'Til I Die" have an impassioned freshness to them even though the artists who created them remain as reliable as ever. The Destroyers' version of Bo Diddley's fierce "You Don't Love Me (You Don't Care)" is a vibrant update of the spirited original as are renditions of Chuck Berry's "Move It" and Eddie Cochran's "My Way". But it's in the collective approach to the music as a whole that the Destroyers prove how much they relish the challenge of putting their own spin on everything they play.

When the band rocks with virtuoso guitarist/writer Elvin Bishop on his "Don't Let The Boss Man Get You Down" or takes off on the Thorogood-Suhler original, "Sweet Little Lady", there's a lively chemistry that's instantly identifiable. Songs such as Eddie Shaw's "Greedy Man" and Charlie Midnight's "American Made" fit the bands' blueprint for championing the blue collar ethic with which they've been identified since they first got together. It's been said that the more things change, the more they remain the same. George Thorogood & The Destroyers would like to suggest that "Ride 'Til I Die" reaffirms the notion that sometimes, when things appear to remain the same, they actually change the most. Listen and decide for yourself.