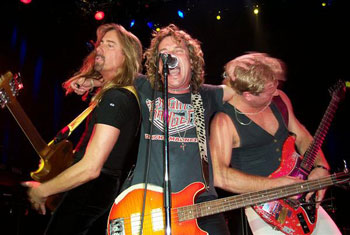 Night Ranger
Brad Gillis is best known for his role as half the dynamic guitar duo of the chart-topping band Night Ranger. Since Night Ranger's first release in 1982, Brad's mastery of the strings and whammy bar have helped lead this rocking AOR band to the top of the charts and multi-platinum sales around the world. Brad himself has almost twenty gold and platinum albums to his name. Having appeared in over a dozen MTV and VH1 music videos, Brad is one of the few guitar icons of our time that can undoubtedly be recognized by both his aggressively unique sound and image. His first solo album Gilrock Ranch produced the top twenty AOR single, "Honest to God," co-written and sung by the legendary Gregg Allman. Since it's release in 1993, Gilrock Ranch has become a benchmark for guitar virtuosos in all walks of the music world. His latest release, Alligator, is bound for even greater success.

Gillis' guitar history began long before the break-through of Night Ranger. At the age of nineteen, Brad joined the San Francisco based funk-rock band Rubicon after auditioning over numerous Bay area guitar veterans. Together they recorded two albums, Rubicon and American Dreams, with 20th Century Fox Records. When Rubicon disbanded, Brad and two other band members, Jack Blades and Kelly Keagy, went on to form a hard rock band with the short-lived name Stereo. When the other half of the guitar duo, Jeff Watson, and keyboardist Alan "Fitz" Fitzgerald joined the ranks, Night Ranger was born.

At the same time Night Ranger was gaining public interest, heavy metal god Ozzy Osbourne recognized the talent in Brad and asked him to supplant Randy Rhoads in his ongoing tour. For the next year, Brad spread himself between the Osbourne sensation and the Night Ranger effort, and can be heard on lead guitar on Osbourne's Speak of the Devil live album. When Night Ranger began to take off, Gillis had the difficult task of choosing one path over the other. Luckily, for music fans everywhere, Night Ranger was blessed with the Gillis technique.

For over a decade Gillis wrote, recorded and toured with Night Ranger, contributing to such hits as "Don't Tell Me You Love Me," "Sister Christian," "When You Close Your Eyes," and "(You Can Still) Rock in America," just to name a few. After years of being one of the top grossing touring bands of the '80s, the members of Night Ranger decided to go their separate ways.

His hiatus did not last long. Shortly after the break-up of Night Ranger, Gillis went on to form the band Mega-Mega. This hard edge band was spotlighted on the motion picture soundtrack to "Don't Tell Mom the Babysitter's Dead." It didn't take Gillis long, though, to get the itch for the road again and quickly discovered that fellow Night Ranger member and drummer, Kelly Keagy, felt the same. Gillis' and Keagy's desire to regain the hard drive and soul back into their music lead them to songwriter, vocalist and bassist Gary Moon.

The reborn Night Ranger trio tantalized the world with their larger than life sound and stage presence, touring for three years solid. Feeding Off the Mojo, released in 1995, breathed new life into what had been labeled a '80s band. Riding the wave of energy created from this release the original five member line-up reformed and Brad released two more albums with them, Neverland (1997) and Seven (1998). Brad toured with the band in support of each album, and spent the summer of 1999 headlining the Rock Never Stops Tour with Ted Nugent and supporting bands Quiet Riot and Slaughter.

Brad's newly released CD, Alligator, is currently available from Pony Canyon Records and carries with it the energy and stamina from years of guitar experience.

Alligator once again reunites the axe slinging mastery of Brad Gillis with the emotionally packed voice and lyrics of Gary Moon. Heard on seven of the ten tracks, the combination of Gillis and Moon makes you want to get out of your chair and hump something (just seeing if you're still paying attention). Alligator is the first album that Gillis has also ventured into the role of lead vocalist, with exhilarating results. The melancholy sound of "Survive," when compared to the industrial raunch of "Chain Gang" shows the potential of this extraordinary guitarist. And for those guitar enthusiasts, don't fret, "(Your Eyes are the Window) Eyes" packs the flamboyant waang-bar techniques one has learned to expect from Brad Gillis.