! "AUTHOR" CONTENT="Lloyd Davis - Thank You Lord!">

Michael
Andrew
Michael Andrew and his Retro-Swing Band took the crowd back to the big band era at JazzMania '97.
Originally from Menomonee Falls, Wisconsin, Michael has always loved sophisticated swing music. As a young boy, his favorite performers were Frank Sinatra, Bobby Darin and other popular song stylists from generations before his time. After graduating from the University of Wisconsin with a Bachelor of Arts Degree and a Major in Theater, Michael developed an act for Carnival Cruise Lines. He became one of their top entertainers, performing on eight of Carnival's ships and entertaining on prestigious inaugural cruises.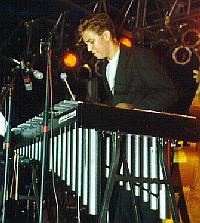 In 1990, he formed the Michael Andrew Orchestras with the goal of providing timeless music in the style of the big bands of the forties and in the tradition of popular singers like Tony Bennett and Frank Sinatra. He has performed with his orchestras in some of the most exclusive venues in America. Michael was a featured guest artist with the Florida Symphony Orchestra and headlined at Merv Griffin's Resorts Casino Hotel in Atlantic City.
In 1992, the world famous Rainbow Room in New York City invited Michael to become their headlining singer and band leader. His contract was extended four times and in 1994, WQEW, New York's nostalgic radio station ran a weekly series of live broadcasts starring Michael and the Rainbow Room Orchestra.
Audiences and critics raved about his "hi-fi, sci-fi" musical comedy, Mickey Swingerhead & the Earthgirls which was produced in Orlando, Florida in the Summer of '96. In this show, Andrew plays two characters: Mickey Swingerhead - a rebel who strives to keep the prohibited swing music alive in the suppressed futuristic society, and Cosmo Kelp - a quirky techno-nerd.
Currently, Michael is working with his band, The Michael Andrew Retro-Swing Band at Walt Disney World's newest venue, "Atlantic Dance" at Disney's BoardWalk. He also performs regularly at the Disney Institute Performance Center and at Epcot Center. Other exclusive stages include the Tavern on the Green and the Plaza Hotel in New York City, the Bel Aire Country Club in Los Angeles, various hotels, private corporate and society social events. Michael also frequently entertains on world cruises for Holland America, Crystal Cruise and American Hawaii Lines.
Watch for Michael Andrew as he is sure to be up there "at the top"!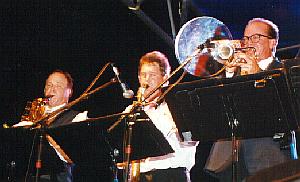 ---
JazzMania '97 Photo Album | Hot Ticket Home Page
---
Hot Ticket, Inc.
1500 Beville Road, Suite 606-118,
Daytona Beach, FL 32114
Telephone - 904.248.0580 FAX - 904.239.7123
Photos Copyright © 1997, Edwin Peck, Jr.; Content Copyright © 1997, Hot Ticket, Inc.