Letters To Tom Cellie Productions, Inc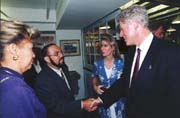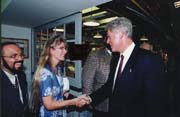 To View Larger Click on Pictures
I just wanted to say thank you for all your assistance and coordination with the event in Daytona Beach. The event went very well thanks to your help and attention to detail. The extent of your efforts was beyond the call of duty and very much appreciated. It has been a pleasure working with you and I look forward to working with you in the future.
Ken W. Mills Presidential AudioVisual Director White House Communications Agency
On behalf of the Special Activities Department (at ISC), I wanted to tell you what a terrific job you did on our Rolex Reception again this year. It is nice to be able to count on your show to be great time after time. ...We have heard many wonderful comments on your performance at the Reception. Kate Dacy - Director of Special Activities
Congratulations and thank you for what appears to be the "Best Ever" Seafood Festival. ...never before have I witnesses such an enormous crowd. D. Lynn Justis VP Membership DBPA
WOW! What a production and a show! ...Our 77th Annual Meeting came off like clockwork because of your efforts and the team professionalism of your staff. ...It's been a pleasure working with you. Ken Stoner Sr. VP Halifax Chamber
Thanks for the great job that you did in providing entertainment for RaceFest '96. ...it was the best we have had ... George Mirabal President Halifax Chamber
Each year Very Special Arts Volusia reaches a new level of performance, achieved through a shared sense of commitment and understanding from many individuals. We are most appreciative to Tom Cellie as one of our newest "team" members. Barbara Very Special Arts
Just a brief note to thank you for your efforts on behalf of Daytona RaceFest and to let you know I enjoyed working with you. Beebe S. White Marketing "500"
Tom the music did it! The music makes our 24-Hour Relay better than all the others! ...You outdid yourself this year, Tom. Mary M. Harowski, APRP VP for External Affairs Easter Seals
Thank you for all your help with the 1994 Daytona RaceFest. As always you and your crew came through with a quality product that was on budget and even more exciting than expected. Many comments from spectators indicated that they really enjoyed the show....
Suzanne Heddy, VP Special Events Halifax Chamber
Thanks for all of your help on this year's Octoberfest. It was far and away our most successful event ever. For coming on board so late and not being familiar with the event, you did a great job in selecting and coordinating the entertainment.....
Ron Nowviskie Chair Prince of Peace Catholic Church
I would like to take this opportunity to thank you for the cooperation you extended to members of my staff during the planning and execution of the King Neptune's Seafood Harvest. The event hosted the inaugural Police Motorcycle Skills Championship, which was a huge success. You played a part in that success. Paul B. Crow Dir. of Public Safety City of Daytona Beach
We would like to Thank You for affording San Francisco Puffs & Stuff, Inc. the opportunity to work with you and the King Neptune's Seafood Festival. ....We thoroughly enjoyed working with you and the entire committee. ....we found Tom Cellie Productions to be one of the most professional, dedicated and honorable promoters we have worked with.
Sharon S. Grim VP San Francisco Puffs & Stuff, Inc.