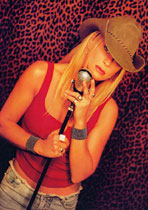 Danni Leigh
Danni Leigh is an artist who knows of what she sings.
Like many trail-blazing musical stylists before her, Leigh's voice conveys the kind of pain and joy that only come from real life experience. She has put her heart on the line and has had it broken. She has taken chances and risked it all. And she knows all too well the elation of seeing her musical dream come true and the searing pain of seeing it turn to ruin. Leigh's journey to realizing her musical dream was never easy but helped mold her into a uniquely mesmerizing artist.
The beautiful singer enjoyed an idyllic childhood growing up in a small town fittingly close to the hometown of her idol Patsy Cline. Surrounded be a close-knit family, Leigh was a dutiful yet rebellious daughter – riding horses, riding motorcycles and rebelling against he daddy almost as much as she loved him. She performed her first solo in church at age three immediately deciding she would sing forever.
Though parts of her story resonate a great country song, it is all just a slice from the life of Monument Records singer Danni Leigh. So it's no surprise that when it comes to country music, few people are more discriminating – about integrity, about intensity – than she is. "I'm not bashful and I can't lie," says Leigh with trademark candor. "When I'm writing, it comes from my soul and I spill my guts. If I didn't write the song, it's got to be something I've felt – songs I don't 'get' just don't work. Whatever the emotion, it's going to come out tenfold," the outspoken blond exclaims.
Ten times the emotion…11 songs on Leigh's Monument debut A Shot Of Whiskey & A Prayer… you so the math. Better yet, you do the listening. Take a listen to the take-no prisoners tunes like her first single "Honey I Do"' a part-growl and part-purr honey-bourbon cocktail. To the chugga-chugga drive that keeps a broken heart a line on "Chain Gang". To the boogie-driven "Little Things"' with its raw guitar and teasing phrasing. Listen as well to the other side of Danni Leigh – the natural sweetness and pure longing conveyed on the eloquent, understated "Back In Your Arms Again"' to honesty aching "Trying To Get over You"' the cried-out pride of downbeat but uplifting "What'cha Gonna Do."
Born in the small Appalachian town of Stasburg, Virginia, she was reared on Buck Ownes, Kitty Wells, and of course, Patsy Cline,, who came from the nearby "Big city" of Winchester. When Leigh was in her teens she took her first job at a record store exposing her to every form of music under the sun. "I found British music, world music, ska, rock, blues," she recalls, laughing about a punk phase haircut that really made her father blow a fuse.
At 19, she followed her music to Orlando, Florida, fronting any halfway decent country band that would have her, but also singing with rock legends Foreigner and touring the nation with APB/The Fenwicks, a group founded by original Lynard Skynard drummer Artemis Pyle. She soaked all she could, then headed for Nashville, taking a waitress job at the legendary Bluebird Café.
In her characteristic rebellious style, Leigh went against the grain when it came to making in-roads into establishing herself as a recording artist. Instead of networking with the musical powers-to-be right away, Leigh took the time to learn the ropes of the business and the power structure of the industry – albeit exhibiting a dash of her unique verve to her surroundings.
"I was like Flo at Mel's Diner - - I was just hateful, like 'You really want a drink right now'?" Leigh says with a laugh before getting serious. "Everyone goes to the Bluebird – artists, songwriters, people who head up record and publishing companies, the people who'd been to hell and back in that town. I really kept my ears open and just shut up and listened."