! "AUTHOR" CONTENT="Genesis International Marketing">

Brian
Culbertson
Brian Culbertson was one "Hot Ticket" at JazzMania '97!
Performing on Saturday and then again on Sunday, he set the crowd ablaze with his unique and exciting brand of jazz music.
At age 23, Brian Culbertson has achieved more than most musicians could hope to attain in an entire lifetime. He's already released two successful solo albums, including one of 1995's top records of the year for "smooth jazz" radio airplay. He's composed, arranged and recorded commercial jingles for such highly-visible clients as McDonald's, Sears, and United Airlines. He's toured to cities throughout the U.S., headlining at jazz festivals and radio station-sponsored events. And he's recently moved into the role of record producer, delivering several tracks for pianist Bob Mamet's top-charting Atlantic release, Day Into Night.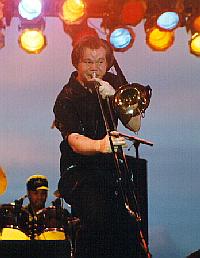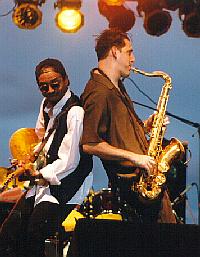 Somewhere, amid that crazy and demanding schedule, the talented young keyboardist has found time to record his third Bluemoon album, After Hours. After Hours is,a project highly anticipated by fans of Culbertson's 1994 debut, Long Night Out, and his follow-up, Modern Life. The pop, urban and jazz stylings that graced those earlier recordings are back in full force, but with a few extra surprises.
Look for Brian Culbertson to go a very long way in a very short time!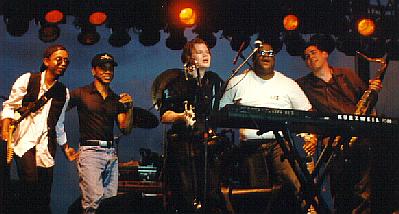 ---
JazzMania '97 Photo Album | Hot Ticket Home Page
---
Hot Ticket, Inc.
1500 Beville Road, Suite 606-118,
Daytona Beach, FL 32114
Telephone - 904.248.0580 FAX - 904.239.7123

Photos Copyright © 1997, Edwin Peck, Jr.; Content Copyright © 1997, Hot Ticket, Inc.