! "AUTHOR" CONTENT="Lloyd Davis - Thank You Lord!">

Paul
Howards
JazzMania '97 just wouldn't have been the same without the dynamic and entertaining music of Paul Howards.
Paul Howards is an exciting contemporary saxophonist whose work has its roots in Rhythm & Blues, Rock-n-Roll and Jazz. He began his training at the age of nine and by the time he was eighteen, he was playing at the world-famous Montreaux Jazz Festival in Switzerland. Paul's second CD, So The Story Goes (OS-NIX MUSIC), released on September 27, 1995, was mixed at River North Recorders in Chicago and mastered at Masterfonics in Nashville features performances by Steve Reid, Richy Kicklighter and Brian Culbertson.
Recent performances include Paul as the headliner at the JazzMaTazz Festival in Ormond Beach, appearances on the Mickey Mouse Club Rocks The Planet show, Roland's Brevard Jazz Series with 99.3 FM Merritt Island, Winter Park Art Festival, Light Up Orlando and WLOQ 103.1 FM dates at the Sapphire Supper Club and Pinkie Lee's. Since performing at the grand opening of the Pleasure Island Jazz Company, Walt Disney World, he has become a featured artist there. Recently, Paul opened for George Benson at the Peabody Hotel in Orlando and this fall he performed at the prestigious Jacksonville Jazz Festival where he received two standing ovations and sold more CDs than any other artist at the event. As a result of this success, Paul has been asked back for the 1995 Jacksonville Jazz Festival. In addition, thousands of Orlando Magic, Miami Heat, Tampa Bay Bucs and Tampa Bay Storm fans have been thrilled by Paul's breathtaking rendition of the National Anthem.
Paul Howards... What A Show!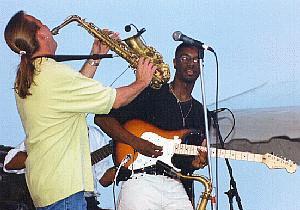 ---
JazzMania '97 Photo Album | Hot Ticket Home Page
---
Hot Ticket, Inc.
1500 Beville Road, Suite 606-118,
Daytona Beach, FL 32114
Telephone - 904.248.0580 FAX - 904.239.7123

Photos Copyright © 1997, Edwin Peck, Jr.; Content Copyright © 1997, Hot Ticket, Inc.